Several presentations to community groups and military veterans in Butte and Missoula on February 20 & 21 provided construction status updates on PCU (for Pre-Commissioning Unit) MONTANA SSN 794.
Attendees learned about the need for new Virginia Class nuclear fast attack submarines, including MONTANA.
Among the reasons for building two of the new class of boats each year are the growing submarine numbers and capabilities of Russia, China and North Korea.
The presentation results included statewide television coverage thanks to John Emeigh of KXLF-TV in Butte.
The coverage was picked up by the Defense Department news monitoring service and a transcript was seen by submarine service leaders and others worldwide.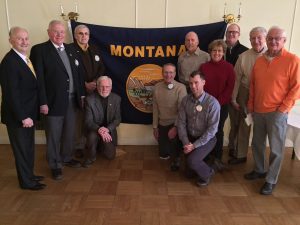 In Missoula, Rotary Club veterans and members of the USS Montana Committee posed for a photo with a Montana flag that was flown over the State Capitol in Helena. It will soon be on display at the MONTANA's construction site at Newport News Shipbuilding in Virginia.