A highly-experienced leadership team for the future USS MONTANA was announced on March 22, 2018 by the U.S. Navy.
The Commanding Officer is Commander Michael Delaney.
The Executive Officer (or second in command) is Lieutenant Commander Jeffrey Kahn.
The Chief of the Boat (or senior enlisted advisor) is Senior Chief Michael Dassau.
As part of the Navy announcement, Commander Delaney said, "All of us who will serve aboard Montana have a deep appreciation for the values, courage, heritage and history of our boat's namesake state. These Montana attributes contribute to the strength and purpose of our crew as we defend our nation."
The complete U.S. Navy announcement may be found here.
The announcement was coordinated with a USS Montana Committee presentation to the Hometown Helena organization in the capital city.
During the Helena presentation, Committee Chairman Dr. Bill Whitsitt  said that Montanans are eager to welcome the leadership team and crew members to the Treasure State.
"Our citizens want MONTANA's first crew and their successors to know how much we appreciate their service to our nation, and that we look forward to supporting the state's namesake warship and crews for her entire service life," said Whitsitt.
Among those attending the Helena event were Montana's  Adjutant General, Major General Matt Quin, and Commander of the Helena Navy Operational Support Center, Lieutenant Commander Drew Nilsson.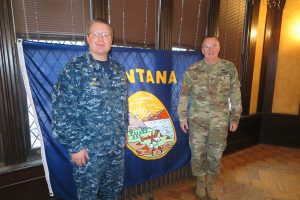 Both are shown (Quinn on the right and Nilsson on the left) in front of a Montana flag that was flown over the State Capitol before being displayed at informational meetings such as yesterday's around the state. It will eventually be presented for display on the USS MONTANA construction site at Newport News Shipbuilding in Virginia