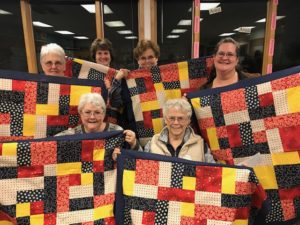 A special group of ladies in the Bigfork area is warming the hearts of young PCU MONTANA crew member parents by making quilts for their newborns.
By doing so, these Montanans are demonstrating tangible and meaningful support of sailors and their wives and children whose lives are shaped by the choice to serve our nation in the Navy.
As both active duty military personnel and veterans, and their loved ones, know first-hand, such service demands much of all family members. Spouse careers are often put on hold. Long-distance moves result from new assignments. That means leaving familiar neighborhoods and good friends for new ones. It means new schools for kids. Long deployments (in the case of submariners especially, being completely out of touch with home) in which the wife or husband is alone with challenges and milestones of a military family's daily life.
Through their service years, many young MONTANA sailors will start or add to their families. That's why we were delighted when the Bigfork Piecemakers Quilt Guild asked us about the possibility of its providing personalized Navy-themed baby quilts for each new family addition.
As was recently recognized in a Kalispell Daily Inter Lake newspaper article entitled A Warm Welcome (found here), the Guild members since last year have been providing quilts as babies are born.
Project chair Donna Danz explains that each bright patriotic quilt includes the name and birth date of the recipient who is being welcomed, as well as the emblem of the future USS MONTANA.
Says Danz, "We're very pleased to have created this project to support these young families. We don't take their service for granted."
Those sentiments are clearly felt by MONTANA parents, and the entire crew.
Commander Mike Delaney, commanding officer of the MONTANA, puts it this way: "To see the smiles of the parents whose babies receive these beautiful quilts is really touching. The fact that Piecemakers ladies donate their time, energy and creativity to design, sew, and send the quilts is remarkable. I cannot begin to adequately put into words how much such support means to the entire crew of the future MONTANA. And the newest members of the MONTANA family will have heirlooms to pass to future generations, reminding them of the amazing support Montanans demonstrate for the members of our military and their loved ones. We couldn't be more grateful."