With leading-edge technology application provided by a Montana company, the future USS MONTANA – a Virginia Class nuclear-powered fast attack submarine with its own leading-edge ability to defend our nation – has moved a step closer to having a bit of namesake legacy aboard when it patrols in dangerous parts of the world.
That's because the USS Montana Committee is working to provide the submarine with a smaller replica of the ship's bell that was aboard the only previous warship with our state's name.
The first and only other USS MONTANA was Armored Cruiser Number 13, commissioned in 1908. She had a distinguished service life until decommissioned in 1921. One of her most moving assignments was bringing home to Brooklyn Navy Yard the bodies of American sailors, marines and soldiers killed in the invasion and occupation of Vera Cruz, Mexico, during that country's revolution in 1914. In addition to carrying out a range of other missions from the Caribbean to Mediterranean Seas, the MONTANA provided important Atlantic Ocean convoy escort service during World War I.
The first MONTANA's ship's bell (with its own fascinating history) has been on display at the Adams Center field house at the University of Montana for years.
Navy vessels have a ship's bell for a number of purposes. Included are for sounding alarms, timekeeping, and rendering honors to senior officers and distinguished visitors when they come aboard. But a ship's bell must meet size and other requirements for the type of ship. Clearly an exact replica of the large one-ton armored cruiser bell at the Adams Center is not an option for the new smaller submarine. However, the USS Montana Committee has decided that one of the Montana-themed enhancements it will propose to give to the new MONTANA now under construction is an appropriate-sized replica of the original MONTANA's ship's bell.
One problem to be overcome has been that, for a bell replica mold to be designed and manufactured, the bell foundry needs a 3-D scan of the original bell. Included would be the original 1908 inscription. (The inscription would be preserved on one side of the new bell. The new submarine's emblem and dates of christening and commissioning would be added to the other side.)
When representatives of DJ&A of Missoula, a regional engineering, surveying and planning firm, learned that the USS Montana Committee needed the 3-D scan, they immediately offered the technology help.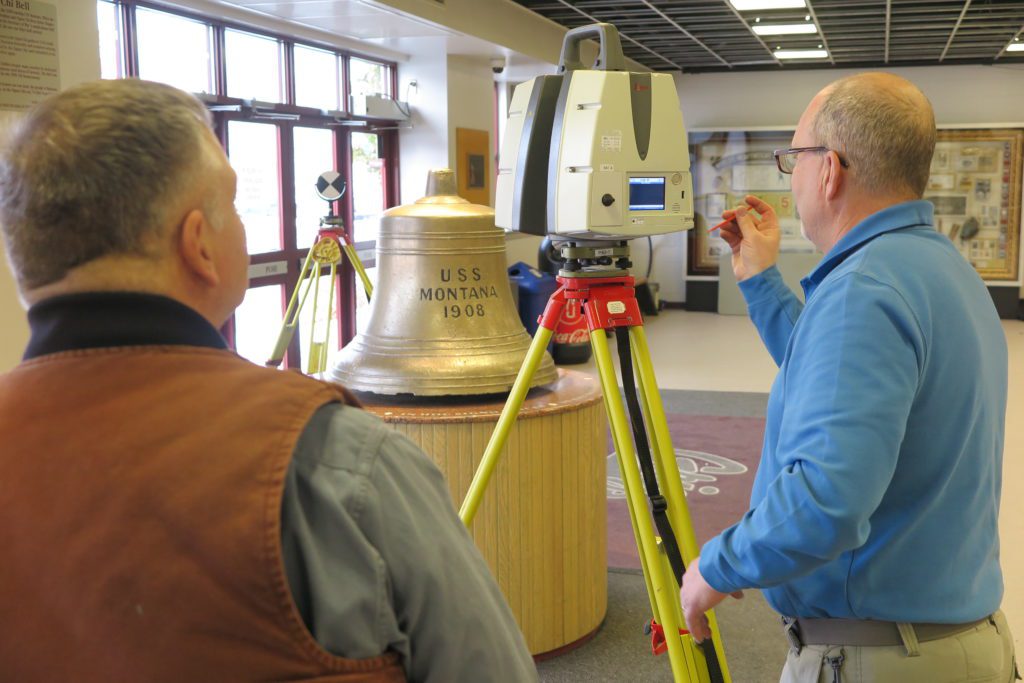 On a recent Saturday, the two-hour scan project was completed by two members of the DJ&A team utilizing a Leica P-40 High Definition Laser Scanner. They were able to perform 4 separate scans around the bell, collecting up to 1-million points per second. The final processed point cloud for the bell contains approximately 75,000 compiled data points with an approximate spacing of 0.02' between points, that have been integrated into a cloud point file to be sent to the bell manufacturer.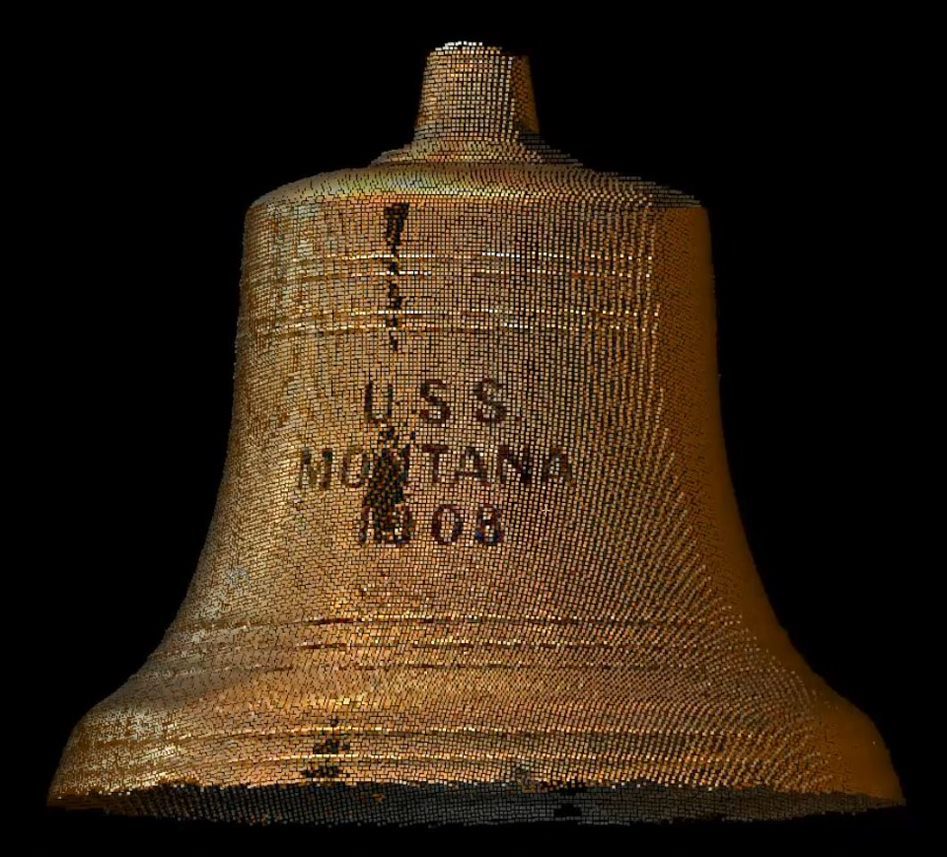 In addition to this photo of the finished scanned image, a complete photo gallery of the scanning project and its results may be found below.
For more information on the first USS MONTANA, go to its separate section of our website. You'll see some history and photos of Armored Cruiser Number 13. We expect much more in the future.
The history of the MONTANA ship's bell on permanent display at the Adams Center, including its re-discovery and preservation, is featured in a separate post to our website News blog. It may be accessed here.