Crew Training Intensifies as Boat Completion Comes Closer (posted 4/26/20)
With the future USS MONTANA (currently designated PCU, or Pre-Commissioning Unit MONTANA SSN 794) now more than 80% completed, the crew's training has ramped up considerably.
When MONTANA is commissioned into the U.S. Navy fleet, likely in late 2021, she'll be the most modern submarine afloat, with her crew among the best-trained anywhere.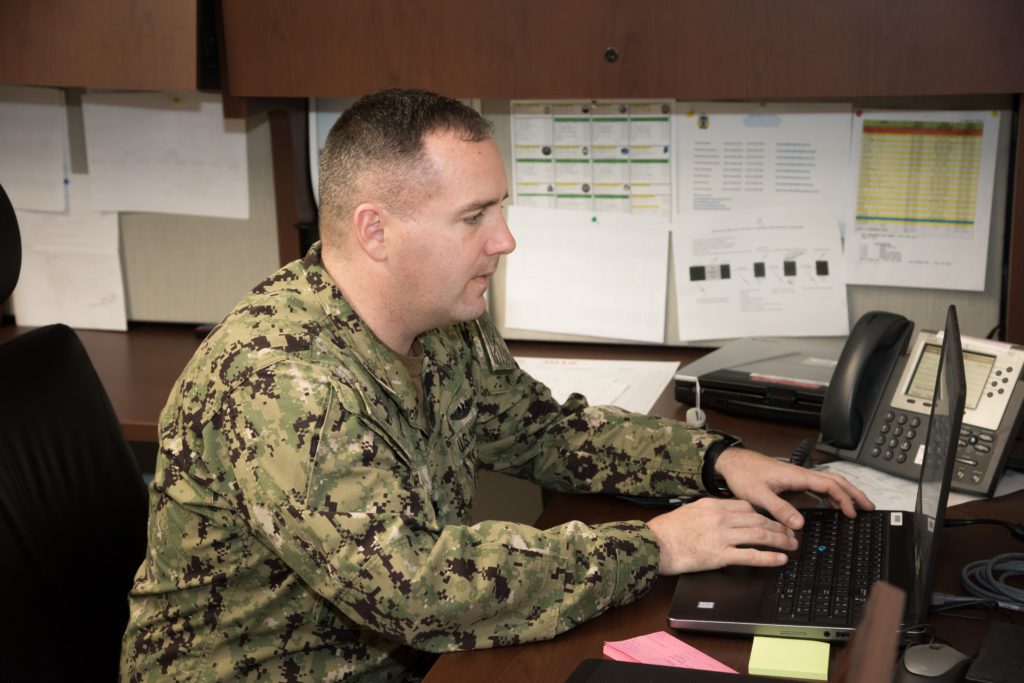 We recently asked the MONTANA's Commanding Officer, Commander Michael Delaney, for an update on the crew and what training looks like. Here is his report:

The crew of PCU MONTANA is fast approaching full manning. Over the past year, a majority of personnel completed rides on other operational submarines to gain valuable at-sea experience and earn their coveted "Dolphins," designating them as a qualified Submariner.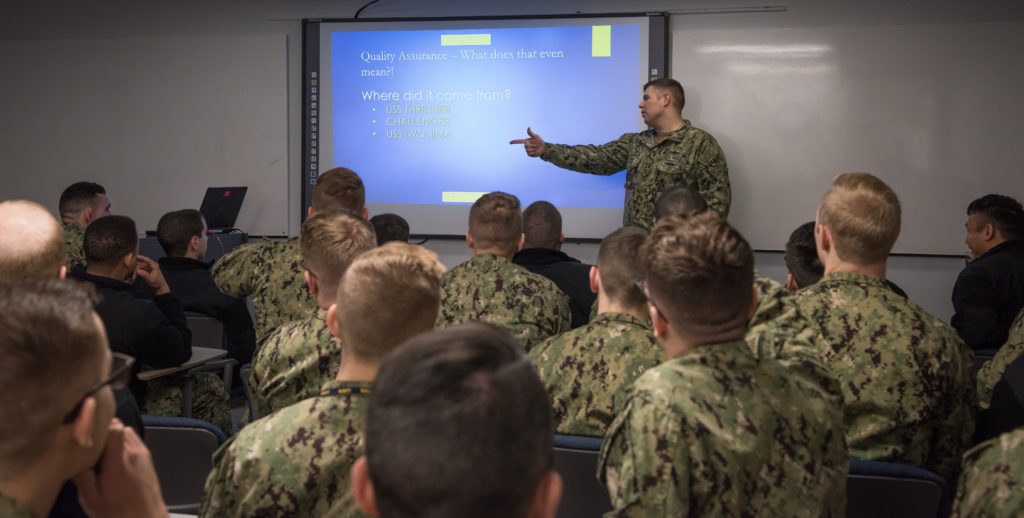 While Sea Trials may feel like it is over the horizon, crewmembers are training daily to prepare for this event using various shore-based training facilities at the Submarine Learning Facility in Norfolk, Virginia.
In order to practice the intricacies of navigating a submarine in and out of port, the crew utilizes a piloting trainer called the Virtual Submarine Piloting and Navigation trainer or "V-SPAN". This trainer simulates numerous real world ports and allows the crew to practice surface navigation techniques and communication skills.
Officers and Pilots (the watchstation stood by those individuals physically driving the submarine) spend numerous hours in the VIRGINIA Ship Control Operator Trainer, or "V-SCOT". A fully immersive ship control trainer fondly referred to as the "dive and drive" that enables teams to practice submerging, driving, surfacing, and casualty evolutions while adding the real-life experience of angles and list as experienced at sea.
USS Montana Committee Chairman Bill Whitsitt was able to experience the (non-classified) capabilities of the trainer – and the MONTANA – during one of his recent visits to Norfolk. He described it as, "An experience like no other. To begin to understand the power, the technology, of a Virginia Class sub, and the rigorous training of those who will operate her anywhere in the world to protect us, is to become even more proud of, grateful for, our young Sailors and those who lead them."
Underway watchsections, made up of members of Sonar, Fire Control, and Navigation Divisions, and Officers, have begun building their processes and practicing submerged operations at the Attack Center, a Virginia Class Control room simulator. The Attack Center allows the watchteam to practice essential skills such as tracking via sonar, submerged navigation, and periscope employment.
The trainers listed above are only some of the many different trainers available for the crew of MONTANA to utilize. In addition to trainer-based trainer, Divisions frequently team up with crews onboard other submarines to participate in actual shipboard evolutions. For example, Weapons Department personnel recently assisted in an offload of torpedoes onboard another VIRGINIA-class submarine.
While most of the tactical divisions are training, the nuclear-trained Sailors are hard at work testing the reactor plant through various key shipyard milestones. Eventually, they will bring MONTANA's reactor to power, or "critical," for the first time. This reactor will be the only fuel source required to power the MONTANA at sea for her projected 35-year commission.
The crew of the MONTANA is proud to represent Big Sky Country. Those crewmembers who have been lucky enough to visit Montana on a home state visit have brought back stories of the exceptional hospitality, gorgeous sights, and incredible excitement surrounding the boat's commissioning. As we say onboard MONTANA: "DO OR DIE! BIG SKY!"
On behalf of all Montanans, we thank CDR Delaney, and the entire crew – and their supportive families – for all they are doing to prepare to protect our nation and our allies.