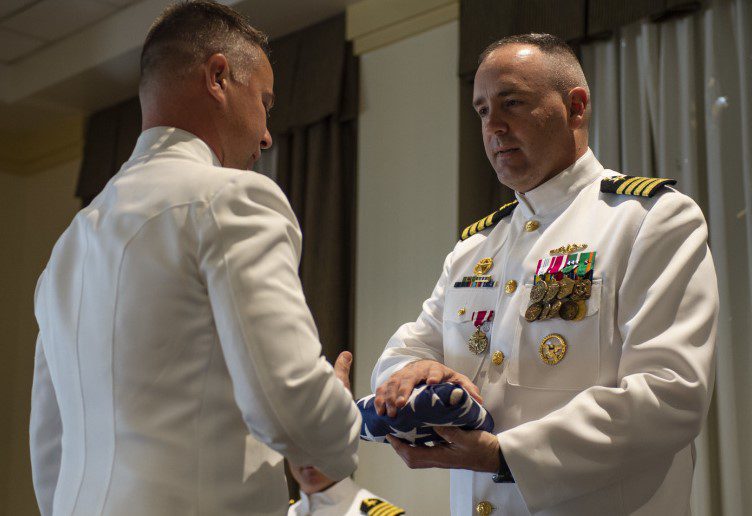 Even with normal Navy career progressions and transitions, the pace continues to be fast for Montana's future namesake warship!

At last month's Change of Command ceremony in which Captain Michael Delaney turned over command of PCU MONTANA to Commander Jon Quimby, both were commended by Commodore, and Commander of Submarine Squadron Six, Jeff Juergens.

As part of the ceremony filled with Navy tradition, Commodore Juergens presented the Meritorious Service Medal to CAPT Delaney, noting his many accomplishments in bringing the MONTANA and its crew to where they are today — the MONTANA exceeding expectations in meeting key milestones toward sea trials and commissioning, and the crew meeting and exceeding training goals. The medal citation also reflected CAPT Delaney's exceptional efforts to foster the support and connections of Montanans with the sailors of MONTANA through her service life.
In his next assignment, as the Navy's Nuclear Accessions Manager, Delaney will be responsible for recruiting and selecting the future submarine and surface warfare nuclear officers from across the Naval Reserve Officers Training Corps, or NROTC, program.
On the way to settling into that role, CAPT Delaney and his family have been spending time in Montana. Traveling from Crow Agency and Billings to Yellowstone National Park, Virginia City, Butte, Missoula, the Flathead Valley and beyond to Glacier National Park and the Hi-Line, they have been well-prepared as honorary Montanans.
That official designation came in connection with the MONTANA's Change of Command ceremony last month. Governor Greg Gianforte issued an official Montanan proclamation that was presented to the Delaney family. It was a huge hit, and a fulfillment of the Governor's promise that all who serve aboard SSN 794 will have the same status.
We wish CAPT Delaney all the best as he now leads efforts to help ensure the best future nuclear officers in the world's best Navy.
CDR Quimby, the new CO, is a decorated submariner who has served aboard both attack and ballistic missile submarines. Ashore he has had key positions. Examples include his being Deputy Mission Commander for the Strategic Arms Reduction Treaty at the Defense Threat Reduction Agency, Requirements Officer in the Navy's Undersea Warfare Division and a Financial Management Officer and Budget Analyst on the staff of the Assistant Secretary of the Navy, Financial Management and Comptroller.
Of his predecessor aboard the PCU MONTANA, CDR Quimby tells us,
Captain Delaney provided such an outstanding turnover. His insight and perspective has been and will continue to be immensely beneficial in preparing me and the MONTANA crew for our upcoming sea trials and delivery to the Navy. I have no doubt his positive attitude and overall outstanding leadership will be felt onboard MONTANA for years to come.
Of his selection as CO of MONTANA he says,
I am beyond honored and humbled for the opportunity to serve as the MONTANA commanding officer. The MONTANA crew have an outstanding reputation of dedication and tenacity and I couldn't be more proud and excited to join the team during this exciting time in the ship's history.
We of the USS Montana Committee are excited to welcome and get to know CDR Quimby and his family.
Already we are exploring potential opportunities for the CO to visit Big Sky Country – but we respect the fact that the scope and pace of work needed to see the MONTANA underway for the first time in the near future is likely to mean that CDR Quimby's visit won't be right away. But he tells us,
I am equally as excited to come to know and work with the MONTANA Committee. Your dedication to the future USS MONTANA and interaction with the crew has been outstanding, and I look forward to continuing the amazing relationship your members, CAPT Delaney and the crew have established.
We thank CDR Quimby for what he is already doing, and agree that this is indeed an exciting – and amazing – time of strong support of all Montanans for the young sailors who will eventually carry Montana courage and values to potentially dangerous places in defense of our nation.
In the coming week we'll have a report from CDR Quimby on the status of the future USS MONTANA and her crew.