USS MONTANA Commissioned!
Now officially the USS MONTANA, SSN 794 was commissioned as the newest and most advanced submarine in the U.S. Navy fleet on Saturday, June 25, 2022.
With more than 100 Montanans among the nearly one thousand in attendance, in a powerful traditional ceremony with Montana elements, Big Sky Country's namesake warship became part of the world's strongest Navy, her Vigilantes of the Deep sailors proclaimed tested and battle-ready for their roles in defending our nation.
To a call by commanding officer CDR Jon Quimby of "Vigilantes!", the crew shouted, "Mount up!".
And, responding to the post-commissioning command to "Bring the ship to life" by Ship's Sponsor Sally Jewell, the crew members ran aboard to raise masts, open hatches, trigger sirens and sound the boat's whistle before lining the deck. SSN 794 truly was seen and heard coming to life!
A moving blessing by Confederated Salish and Kootenai Tribes Elder Gene Sorrell and a flyover by a Montana Air National Guard crew, also known as the Vigilantes, brought the ceremony to an emotional close.
Earlier in the week commissioning crew members and families experienced a Montana lunch of pasties made by ladies in Butte, frozen and sent to Norfolk.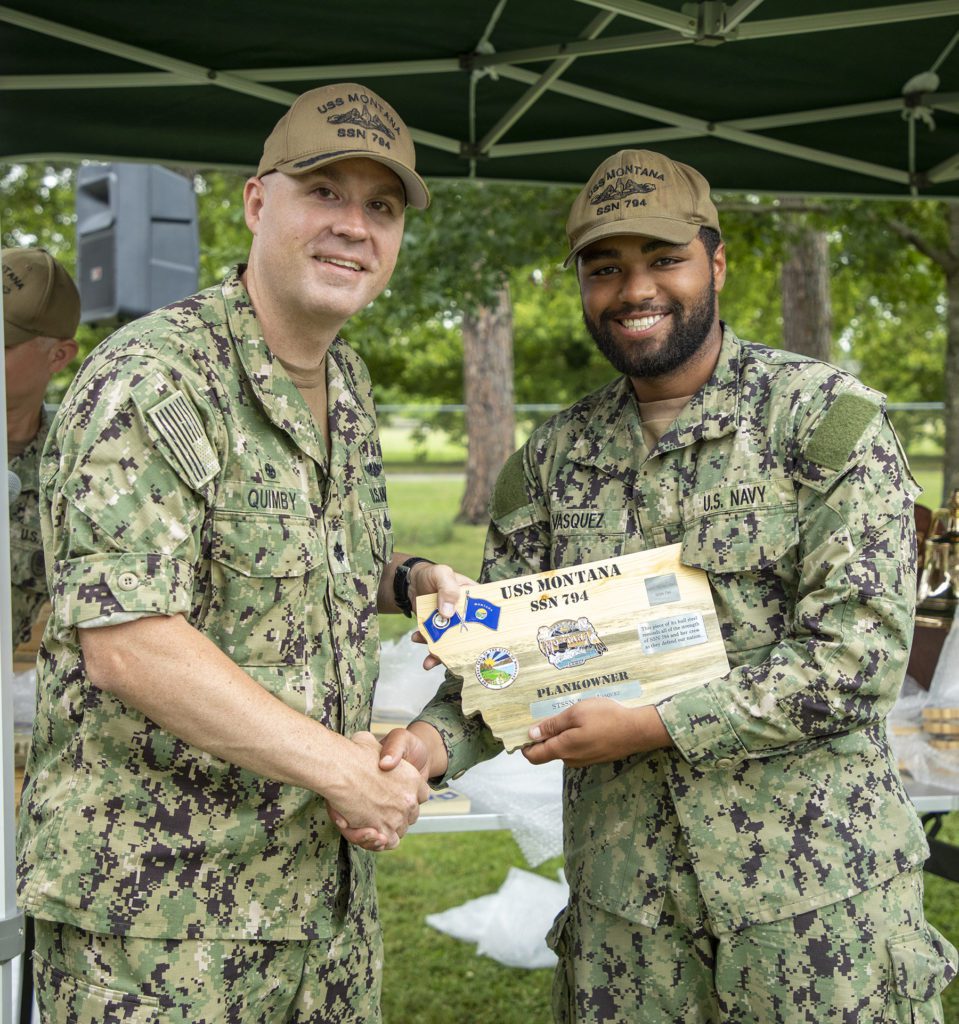 The lunch was highlighted by CDR Quimby and other leaders, in Navy tradition dating to sailing ship days, presenting each of the commissioning crew members a plankowner plaque signifying their special status.
Please watch this space over the next week for more commissioning week highlights.
Congratulations to the officers and crew of the USS MONTANA from the USS Montana Committee that this week adopted a new vision/mission statement to affirm its intent to support SSN 794 and all who sail her in defense of our nation for decades to come.