Supporting SSN 794 and all who serve aboard her in defense of our nation
Future USS MONTANA in Alpha Sea Trials, February 2022
(Photo courtesy Huntington Ingalls Industries)
USS MONTANA (SSN 794)
Vigilantes of the Deep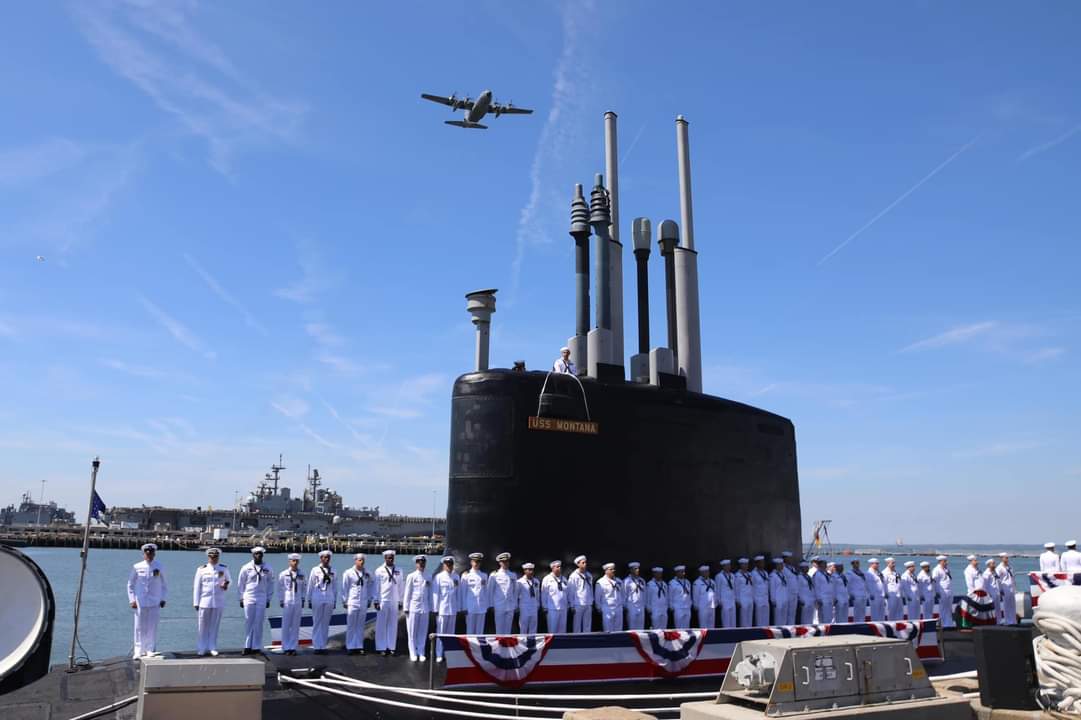 Welcome to the home page of the USS Montana Committee, supporting SSN 794 and all those who sail aboard her in defense of our nation and our way of life.
Commissioned and joining the U.S. Navy fleet in a powerful and emotional ceremony at Naval Station Norfolk in Virginia on June 25, 2022, the USS MONTANA is a Block IV Virginia Class fast attack boat.
On this website you can learn more about her multi-mission capabilities that are truly awesome. Intelligence gathering, surveillance and targeting. Sea control and protecting carrier and amphibious strike groups. Land attack. Mine-laying and detection. Special operations, including insertion and recovery of Navy SEALS. And much more.
Here you can also learn about what hundreds of our USS Montana Committee members throughout Big Sky Country have been doing -- and will do in the future -- to support our highly-trained USS MONTANA sailors and their families. We are proud of these Vigilantes of the Deep as they have chosen to call themselves. They will patrol and carry out missions in potentially dangerous parts of the world for decades, preserving peace through deterrence but always battle-ready.
On our News page, blog posts will keep you updated on latest developments. You can see photos of crew visits to Big Sky Country in the past and learn of those expected in the future --after all, crew members are Honorary Montanans by proclamation of Governor Greg Gianforte. And they are eager to carry Montana's values of courage, determination, and resilience with them in a challenging and uncertain geopolitical time.
You can learn about the legacy of the first and only previous USS MONTANA, Armored Cruiser Number 13 commissioned in 1908. Its history is on this site.
And this is where you can learn more about the USS Montana Committee, and how you can join us in making history.
Welcome!
Video produced by Craig Wirth with funding by the Greater Montana Foundation, encouraging communication on issues, trends and values of importance to present and future generations of Montanans.